I ran in the first ever zombie run—Run For Your Lives—on Saturday, October 22, 2011 outside of Baltimore, Maryland. It was a 5k obstacle run (much like Warrior Dash) with the added difficulty of "live" zombies on the field.
Here's my head-cam video of the run:
My race time was 35:34.5 which they say was a 12:26/mile pace. It was a much better time than I had expected, especially since I had to pause so many times to dodge zombies and the hills were so steep on the second half of the course. I finished at #669 for the runners who survived and #1012 overall.
Event runners tips for next year:
The major issues all centered around the size of the crowd. I didn't experience problems like these at Warrior Dash, so I'm chalking it up to inexperience and hoping that as they run more of these events they'll go smoother.
Parking, Busing, & Lines

I was there early so getting into the parking area wasn't a problem for me. I heard there was a very long line of cars waiting to get in a little later in the day. On my way out I got stuck in the mud. They've already addressed the parking situation for next year by moving the location.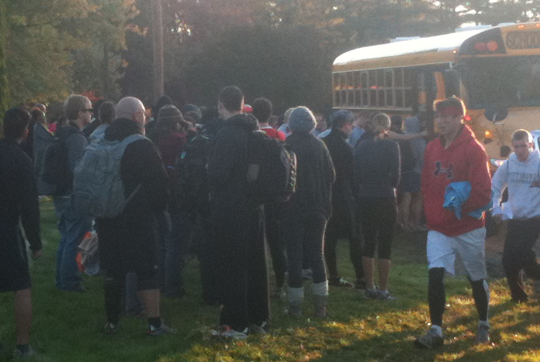 Because the wait for the buses was so long I'd recommend placing more porta-potties near the bus pick-up and before check-in.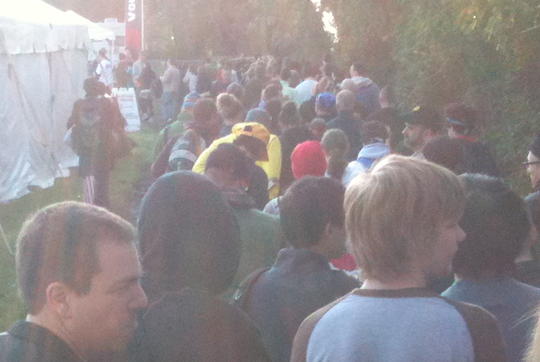 I had arrived and parked my car an hour before my run time, as they recommended on the site, but due to the long lines (and bus delays) I didn't run until an hour after my allotted time. Luckily the event was flexible enough to allow for it. Next year I plan on arriving 3 hours before my run time.
Swag
The shirt that I received was a nice shirt for running, but I was really expecting a commemorative t-shirt printed with the race logo, location, and date—the race medallion was very nice though. I guess I was a little spoiled by Warrior Dash, where they gave you a printed race shirt, a warrior hat, and a medal.
Accolades
For a first year event I think it ran fairly smoothly. The three different channels for the runners at the start of the race (appetizer, entree, and dessert) was an awesome idea. It allowed faster runners to choose a path in the beginning where they wouldn't immediately get trapped behind very slow runners. The zombie makeup was phenomenal (watch the video to see for yourself).
I didn't stay for the Apocalypse party, but I plan on doing so when I run again in 2012. I also hope to start a petition to get a race scheduled in Pennsylvania. I definitely recommend giving this run a go. Visit the Run For Your Lives website to see if they've scheduled a race near you.